Harness the hidden power of kindness in your leadership
Your Hidden Superpower eCourse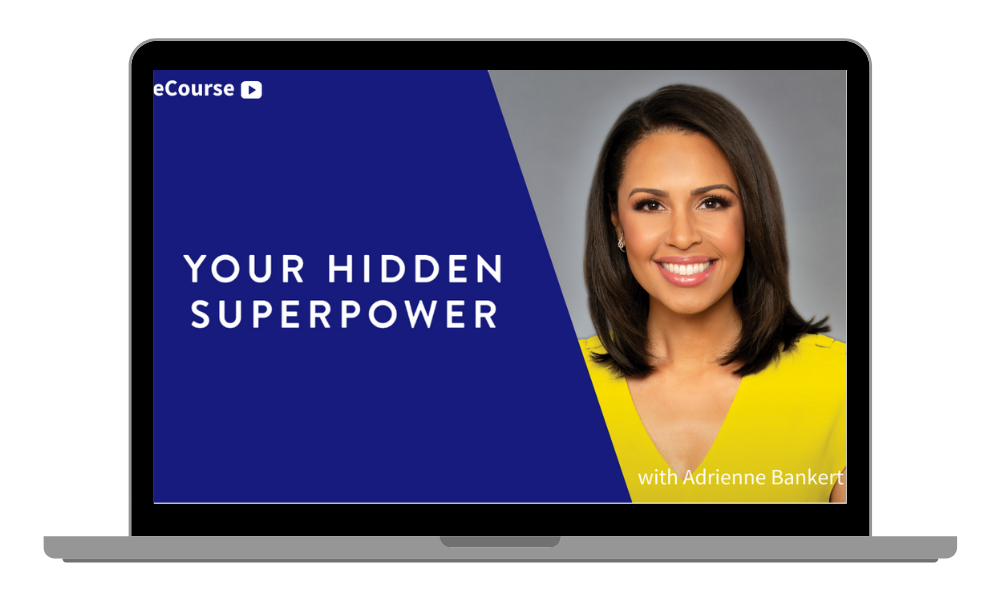 Instant Access
Upon purchase
Business has changed forever. There's a new model of competition, where your edge is how you treat people.

Discover how kindness can reignite our passion for the work we do and help us bring our best selves to business even if we don't know what to do next.

In this course, Good Morning America correspondent and anchor, Adrienne Bankert, will transform every interaction you have from here on out into a wellspring of inspiration, impact, and opportunity. This powerful new perspective on kindness can change the world.

Honing Adrienne's specific techniques including mediation exercises, affirmations, and scheduled moments of kindness and her insights from studying those of others, this 82-lesson, video-based study will teach you: 


An intentional lifestyle of kindness that will bring you to a new level of innovative and intuitive leadership, while you also inspire those around you to reach their greatest heights. 


Adrienne's practical tips and tools to open the floodgates on fresh opportunities in your career, business, and relationships.



The difference between nice and kind, and how not only knowing the difference but actively putting it into practice is a game changer in business and your key to authenticity and confidence.
Access the course today and start learning right away!
Lesson 1 - Kindness 2.0
Learn how to harness the power of kindness to open new doors in your career and life.
Lesson 2 - The Power to Be the Real You
Understand how your unique brand of kindness works as a shield against disappointment and a catapult away from compromise.
Lesson 3 - Kind vs. Nice
Discover the difference between being nice and kind, and why upgrading to kindness is your best bet for success.


Lesson 4 - Someone Is Always Watching You
Begin building your legacy of kindness on actions, not words, so you can earn bigger and better opportunities.
Lesson 5 - Famously Kind
Obtain the keys to investing in your leadership ability so you can invest in others.
Lesson 6 - Kindness and Confidence in Every Room
Learn how to make an instant connection with anyone in any room through kindness.

Lesson 7 - The Power to Open Doors
Use kindness as a tool for overcoming rejection or failure, resisting perfectionism, and gaining clarity on your present and future goals.
Lesson 8 - Yes, New Friends
Create a vision board for the type of relationships you want in your life and become more open to new experiences and people.
Lesson 9 - Creating Allies at Work
Choose kindness as your code of conduct in the workplace so you can deal with gossip and handle negative colleagues with ease.


Lesson 10 - Resilience in a Crazy World
Control personal and professional chaos by creating positive triggers that remind you to stay kind and experience joy when we're feeling down.
Lesson 11 - The Power of Giving
Get more out of every interaction with kindness, the one quality that makes people excited to help you get where you need to be.
Lesson 12 - Course Wrap-Up
Harness the power of giving to get out of survival mode and start feeling appreciative for the opportunities you do and could have.


Plus, access these bonuses:


Sample template for offering mentorship opportunities

Mini kindness challenges to help you advance your career naturally and intentionally

Journal prompts encourage you to find new ways of giving value to others and yourself

Exclusive interview with Adrienne's mentor, Bill Krause


After this course, you'll be able to...
After this course, you'll be able to...
Change your response to huge life changes like death and unemployment and consistent worries.
Identify your unique brand of kindness and discover how it can help you earn bigger and better opportunities.
Understand how to invest in relationships without losing yourself.
Apply Adrienne's 5-step process to add more kindness to your life in less than 5 minutes.
Gain the confidence you need to mentor others and to ask people what they need from you.
Find your Kindness Zone and develop ways to reach it when you're dealing with unkind moments.
The Leadership Essentials eCourse platform is an interactive experience with videos, insights and quotes, discussion questions, activities, audio downloads, and more.
Start learning right away
Please note: You will be prompted to create an account with Leadership Essentials upon checkout of your eCourse from the Leadership Essentials store. This will be your login information to the eCourse once you've purchased.
This course is for you if...
You want to rediscover passion for your work
You're a manager who recognizes your employees are stressed
You are trying find your competitive edge in business
You want to model kind leadership in your everyday life
You desire to build stronger relationships and make lasting connections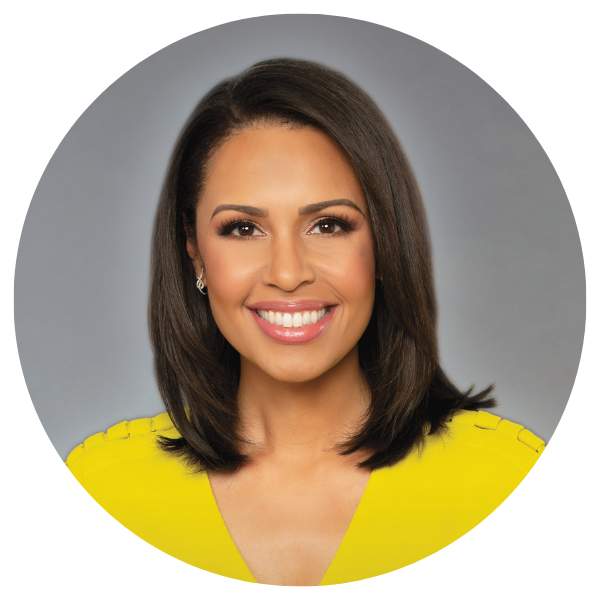 Author, Speaker, Award-Winning Journalist


Emmy Award-winning ABC News journalist and Good Morning America correspondent Adrienne Bankert has seen the power of kindness at work firsthand. Determined to pursue her dreams of being on national TV, she took a chance and landed a Los Angeles reporting job. Her new boss told her it was her reputation for kindness throughout her career that was the key to her being hired. Just a few months later, that opened the door to the biggest break of her life, landing a job at a major TV network. Adrienne is now known for her versatility and ability to connect whether interviewing, anchoring, or in the field. She speaks regularly on the topic of kindness as a key to identity and genuine engagement for living life wholeheartedly.

Praise for Your Hidden Superpower
"Adrienne is a true force of nature; her kindness and glass-half-full perspective are truly inspirational. Whether she is interviewing you or you're just getting a cup of coffee with her, Adrienne's exceptional skill in connecting with people is awe-inspiring. I am very excited that with this book she now shares her superpowers with us all!"
– 'Shaq' Shaquille O'Neal, Business Mogul, Basketball Hall of Famer, TNT Analyst, Inside the NBA

"The energy Adrienne brings whenever she shows up in studio and on camera just connects. What she shares in the book is proof positive that you can make the day better for people in your life, and for those you work with--and THAT is powerful."
– Michael Strahan, Good Morning America Co-Anchor and Fox NFL Analyst
"Newsrooms are full of Type A personalities--almost a necessity of the jobs they perform daily. Adrienne, like everyone else in a newsroom, has encountered aggressive behavior from her teammates or managers along the way. Never once over the years, since I met Adrienne before her very first job in Sacramento, has she talked negatively about one person, even when I knew she had reason to dislike their treatment of her personally. Adrienne's faith and care of others is ever-present. She has a lot of patience is an industry where many have a short fuse. Kindness has carried her a long way in a business that isn't always kind."
- Sandra Connell, President of Media Recruitment and Coaching Firm, Talent Dynamics

Please note: You will be prompted to create an account with Leadership Essentials upon checkout of your eCourse from the Leadership Essentials store. This will be your login information to the eCourse once you've purchased. If you aren't satisfied with your eCourse purchase, we offer a money-back guarantee up to 30 days from your purchase date where you can receive a full refund.
Questions about eCourses? View our Frequently Asked Questions or contact customer service.